Links
Purchase Straight to the Bottom Line®:


Learn more about the Sequel: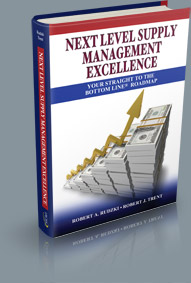 Also Written by Robert A. Rudzki
Beat the Odds The evidence is irrefutable: the life expectancy of corporations is less than 50 years. Why? What's going wrong? And, what can you do about it in your organization?

Beat the Odds is available from online booksellers and direct from the publisher.




Links to the Authors' Companies

Rudzki: www.greybeardadvisors.com
Smock: www.globalcpo.com
Katzorke: www.smiths-aerospace.com
Stewart: www.tyco.com/


Links to Vendors Profiled in the Book's Appendix


Supply Management Software Vendors:

Ariba, Inc.: www.ariba.com
CombineNet, Inc.: www.combinenet.com
Emptoris, Inc.: www.emptoris.com
Frictionless Commerce Inc.: www.frictionless.com
I-many, Inc.: www.imany.com
Ketera Technologies: www.ketera.com
Oracle: www.oracle.com/applications/procurement
Perfect Commerce: www.perfect.com
Procuri Inc.: www.procuri.com
SAP AG: www.sap.com
SciQuest: sciquest.com
Verian Technologies: www.verian.com
Verticalnet: www.verticalnet.com
Zycus: www.zycus.com


Supply Management Consultants:

Accenture: accenture.com
A.T. Kearney, Inc.: atkearney.com
Calyptus Consulting Group, Inc.: www.calyptusgroup.com
Daniel Penn Associates, LLC: www.danielpenn.com
IBM: www.ibm.com


Supply Management Outsourcing Service Providers:

Accenture Procurement Solutions: www.accenture.com
Ariba Inc.: www.ariba.com
IBM: ibm.com
ICG Commerce: www.icgcommerce.com